Northwest Vietnam is undoubtedly one of the most popular tourist destinations in Vietnam. The combination of pristine natural beauty and the unique local culture has created a strong attraction of this land. Referring to the Northwest, we can't ignore Sapa – the rendezvous of heaven and earth. Sapa is genuinely an outstanding tourist attraction. A motorbike tour from Hanoi to Sapa by BM Travel Motorbike Tour is an excellent choice for those who desire to explore gorgeous landmarks and conquer challenging off-road tracks. Let's see if the tour can win your heart!
Day 1: Hanoi – Mai Chau
This route includes some risky slopes and rugged off-road single tracks so you should not lose your concentration. The highlights of the day are Thung Khe Pass, the Black River, and Mai Chau Valley. Thung Khe Pass is also called White Stone Pass. The pass is 1000 meters above sea level. Riding along the pass in the mist veil, we are about to explore a whole new world as. From the top of the pass, you can admire the phenomenal panorama of Mai Chau Valley. In the valley are small houses scattered on the vast green paddy fields – such a tranquil beauty can refresh our mind instantly. The grandeur of the Black River is also worth beholding. Going along the river, you will come across plenty of towering limestone mountains and crystal clear lakes.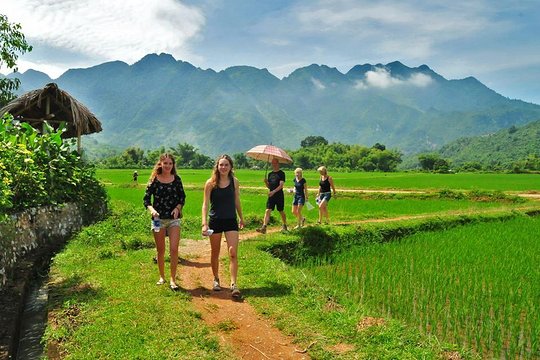 Day 2: Mai Chau – Son La
On this day, we will witness the beauty of Moc Chau Plateau in Son La. Moc Chau is famous for colorful flowers blooming all year round and cow farms. You may also love to visit several beauty spots in the area like Son Moc Huong Cave, Ang Village with the verdant pine forest, Dai Yen Waterfall, etc.
The next destination of the day is Pha Din Pass – one of the four greatest passes in the North of Vietnam. The pass is full of sharp curves, and the terrain is rough. Experiencing such a challenge makes the trip from Hanoi to Sapa more interesting. In spite of all the obstacles, you will find your efforts are well paid once you see the extraordinary landscapes from Pha Din Pass.
Day 3: Son La – Muong Lay
The third day is probably the most wonderful day of this itinerary. Prepare yourself because you are going to cross a lot of single tracks today. The first destination is Tuan Giao – a lovely small town. Then on the way to Muong Lay town, we will go on Ta Con slope and Tang Quai Pass – a tortuous pass that dares adventurers to conquer. This spectacular pass is also an ideal spot to contemplate the sea of clouds. 
We are pretty sure that when you go to Muong Lay Town, you will quickly fall in love with the scenery here. The green of huge mountains and the vast meadow, the white of the clouds in the immense blue sky, and the brown of typical stilt houses of Thai people will capture your attention. The town is home to nine ethnic groups. Primarily, this is considered the capital of the White Thai who are famous for traditional dances. This is a good opportunity for you to learn more about the culture of ethnic minorities in Vietnam. We will also come to see Hang Tom Bridge – the most significant cable-stayed bridge in Indochina. 
Day 4: Muong Lay – Lai Chau
On the fourth day of the trip, we will leave Muong Lay for Lai Chau. First, we will go to Pu Dao commune of Nam Nhun District via Lai Ha Bridge. As you go on the bridge, you will see small stilt houses lurking under coconut trees beneath a veil of mist – what a peaceful spectacle! We will get closer to see the daily life of the local people and join some of their activities. When we reach Lai Chau, we will not only marvel at the picturesque mountains of the Northwest but also taste the delicious local specialties like smoked buffalo, grilled fish, purple sticky rice, etc.
Day 5: Lai Chau – Sapa
In the morning, we will together get to Tam Duong market – a typical market in mountainous areas. This is not just a regular market where people come to sell and buy things, but also a beautiful cultural feature. Here you will see people from different ethnic groups with colorful clothes. They bring livestock, handicrafts, instruments, vegetable, and so many other things. Of course, they never forget to bring their smile and happiness to share with each other. After discovering the market, we continue to go to Sapa. Although the way is not too long, breathtaking landscapes are still abundant. This proves that this tour from Hanoi to Sapa is one of the best motorbike tours in the North of Vietnam.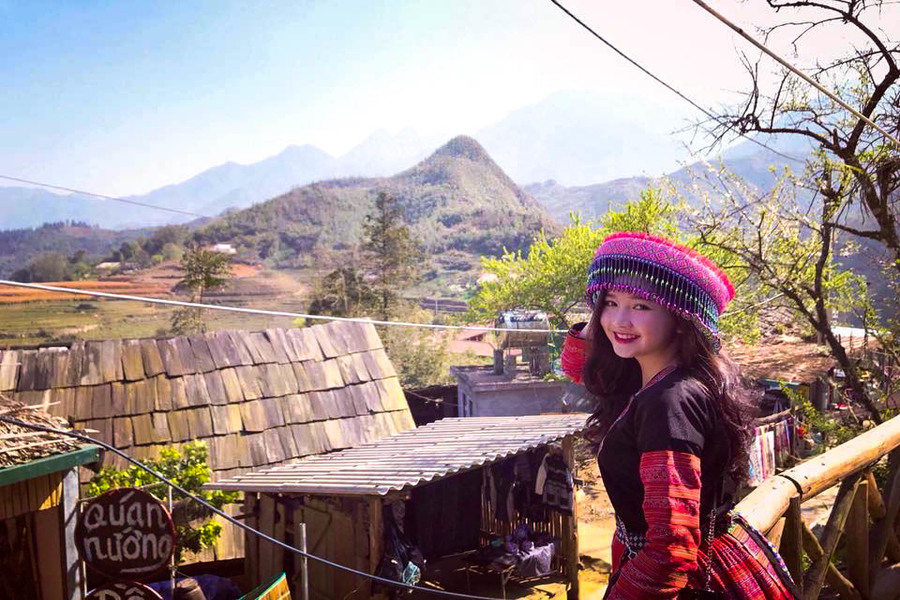 Day 6: Off-road Sapa Motorbike Tour
The last day will be an opportunity for you to experience a Sapa motorbike tour. The first destination of the day is Cat Cat Village – the most beautiful old ancient village of the Northwest. You can quickly realize that almost everything in this village is still pristine. It feels like we are brought by a time machine back to Vietnam in ancient times. Cat Cat Village is also renowned for traditional handicrafts which are preserved by many generations. And how can we miss Muong Hoa Valley – one of the most popular attractions in Sapa? The scenery here is overwhelmingly beautiful with silver streams, majestic terraced fields, and of course, with ancient mysterious rocks. This valley clearly demonstrates that Sapa is one of the most beautiful places in the whole of Vietnam. At the end of the day, we will return to Hanoi by train.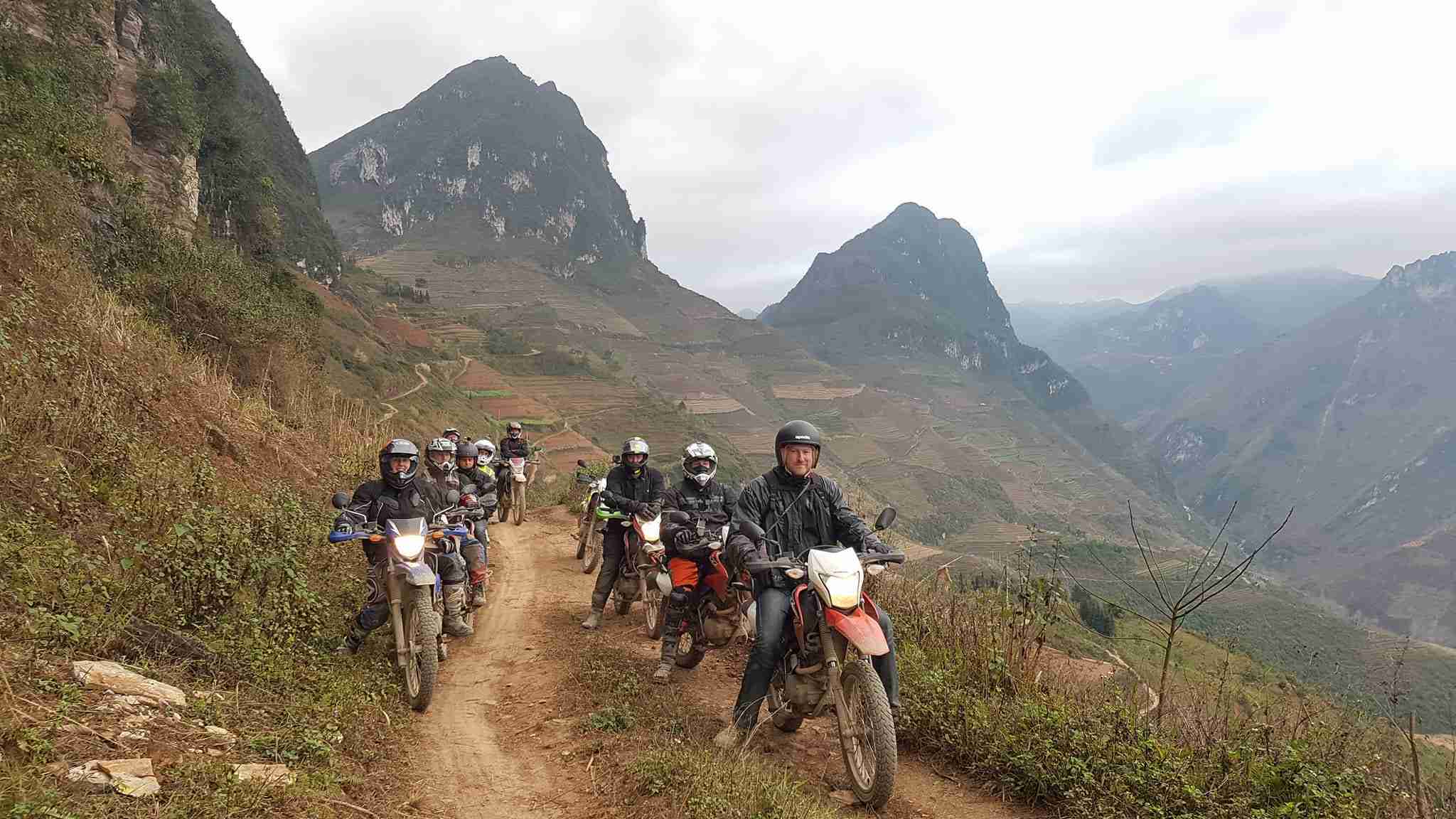 So our journey from Hanoi to Sapa ends after six days. This trip will surely leave you with many beautiful memories and priceless experiences. Many tourists have even returned to Vietnam just to revisit Sapa. So why don't you join this tour right away?