According to Vietnam Immigration law, Vietnam Visa Approval letter is issued when a legitimated Vietnamese travel agent send the visa request to the Immigration Department of Vietnam on the behalf of foreigner(s) wishing to enter Vietnam for tourist or business purpose.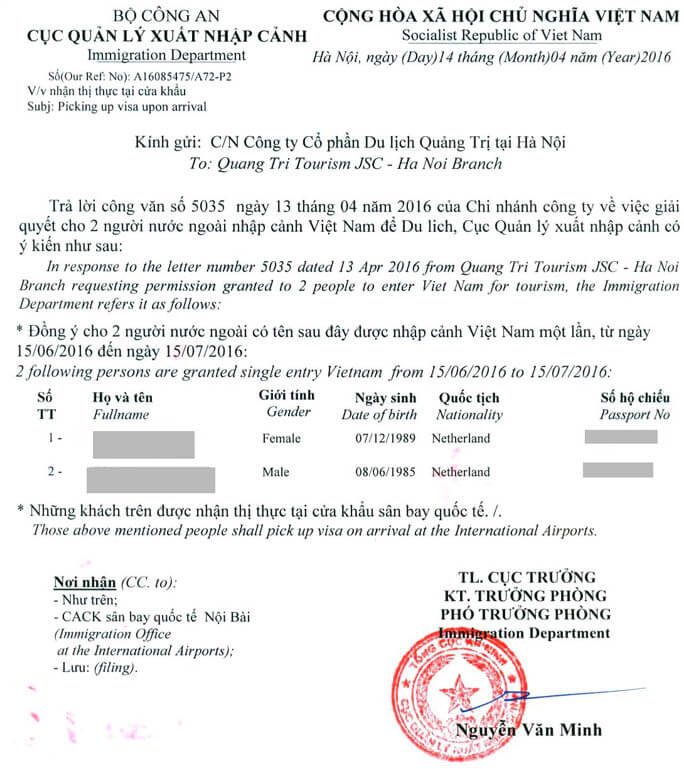 1. What is Vietnam Visa Approval Letter?
It is an official legal document granted by Vietnam Immigration Department, which allows the listed people (in the letter) together with noted approved information on the entry and exit date and visa type. Therefore, when foreign travelers get the visa approval letter for entering Vietnam on hand, they are assured to get Vietnam visa on arrival at Vietnam airports
2. How does Vietnam Visa Approval Letter Work?
As a legal document, each Vietnam Visa approval letter has a unique code when it is issued. Vietnam Immigration Department monitors the record of all foreigners' immigration activities in Vietnam by encoding the issued documents for them. It can be totally said that Vietnam Visa approval letter's working regime is like that of air tickets. Clients just print it out to get on board, and present it to the Immigration Officer at Vietnam airport to stamp Vietnam Visa.
3. How Much is a Vietnam Visa Approval Letter?                            
The fee to get this approval letter varies depending on the visa type requested, and the nationalities of the applicant(s) please refer to Vietnam Visa fees page for reference.
4. How To Apply for Vietnam Visa Approval Letter?
Firstly, please make sure that the applicant(s)' passport is valid for 6 month upward since the proposed date of arrival in Vietnam.
Secondly, complete the online application for a visa approval letter
Thirdly, make payment for the visa approval fee
Then get the visa approval letter issued and sent to your registered email.
At your departing airport, the airline you travel with may require you to present the letter as the proof of your legal entrance to Vietnam.
At Vietnam airport when you check in, you will be directed to the "Vietnam visa on arrival" counter to get visa stamped there. Here, you submit your visa approval letter, your original passport, the application for entry and exit form, and the stamping fee.
Notice: Visaonlinevietnam.com can even support the cases that you forgot to apply for Vietnam Visa approval letter and you need it urgently to catch up your flight as scheduled. In this case, you can use our "holiday service" to get your visa issued within 30 minutes to 4 hours. Please contact us for the best advice and solution
For further information on Vietnam visa approval letter, please feel free to contact us!