The director of the Preventive Medicine Department suggested that people entering with a vaccine passport will be isolated for 7 days, tested twice, if negative isolates at home or at the residence for another 7 days on April 15 with the National Steering Committee for the Prevention of Covid-19.
Accordingly, people entering Vietnam with vaccine passports will be tested for the first time on the first day after entry; the second on the 6th day of quarantine. A third test was done on the last day of the home or accommodation quarantine chain. If all three tests negative, the person on entry is terminated on quarantine. Thus, the total quarantine period of vaccine passport holders is only 14 days, of which 7 days gather and 7 days at home or accommodation.
Associate Professor Nguyen Viet Nhung, Director of the Central Lung Hospital, said that it is necessary to reduce the quarantine period from those who have a valid vaccination certificate. Even, he suggested to those who hold vaccine passports, after entering, if the PCR test is negative, there is no need to quarantine. However, in order to have a safe vaccine passport application process, Mr. Nhung proposed that, in the short term, be a pilot. "The reduction of the quarantine period or even the absence of quarantine can be piloted by welcoming guests to Nha Trang, if after a period of good results, ensuring no spread of disease to the community will expand to other places, "said Mr. Nhung.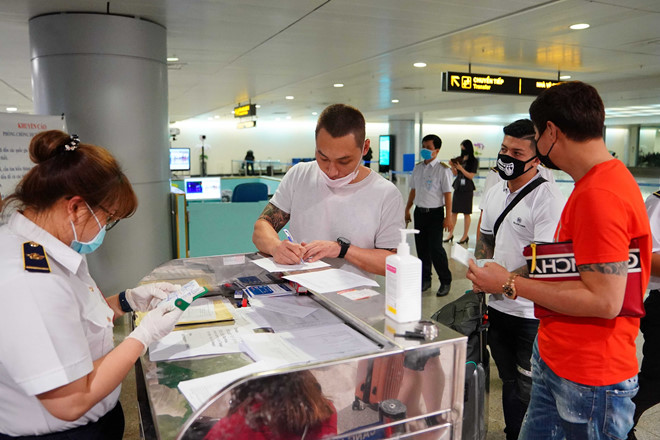 Foreign visitor complete immigration procedures at Noi Bai airport, Hanoi, before Vietnam stops international commercial flights, March 2020. Photo: Ba Do
At the same time, Mr. Nhung said that Vietnam still needs to set the highest goal of ensuring the safety of the epidemic. This goal must be based on science and practice. First, agencies must develop safety procedures, such as recognizing which vaccines, how long from the time of vaccination to entry, how to inject the correct instructions or not, how effective the vaccine is. … "In particular, there must be a process to detect fake vaccine passports," warned Mr. Nhung.In addition, Vietnam needs to require all inbound medical declarations, install Bluzone applications to monitor and trace when needed; When the vaccine passport holder leaves, continue PCR testing again.
With international tourists, Mr. Nhung said that after their entry, the authorities need to build up technical barriers to ensure they do not go out of the specified limit of locations. Local police, military, and health services should be mobilized to control open locations. "Vietnam is controlling well the epidemic, so welcoming international tourists carefully, with a roadmap that will bring great benefits to the country," he said.
With Vietnamese people stranded overseas (already vaccinated) returning, Mr. Nhung said he could still apply 7-day isolation to ensure safety. "If it is possible to rescue Vietnamese trapped abroad and return safely, this is a humane and economic job," said Mr. Nhung. Associate Professor Nguyen Viet Nhung also agrees with three groups of people who are expected to apply for vaccine passports as expected by the National Steering Committee for Covid-19 Prevention, because these people account for a large proportion of entering Vietnam.Assoc. Prof. Dr. Tran Dac Phu, Senior Advisor of the Vietnam Public Health Event Center (Ministry of Health), said that the vaccine passport is essentially a certificate of vaccination of Covid-19. thereby helping people to prevent epidemics, remove difficulties in travel and economic business. Currently, many countries around the world also raised the issue of "vaccine passport" but not yet implemented. Up to now, Vietnam still has no immunity to the community, because the vaccination rate is not high, so if a few cases are admitted to the disease, the risk of outbreaks again is inevitable ".Mr. Phu said that there should be a harmonious calculation between not letting Covid-19 spread among the community and economic development. The problem causing concern is that the Covid-19 vaccine is too new, and its protective effects cannot be confirmed. Meanwhile, the number of people vaccinated in Vietnam is less than required. In the short term, Vietnam may apply the model of "low contact tourism". This means that people with vaccine passports can enter, be tested for Covid-19, must be isolated for a reasonable number of days, to places where there is no traffic and crowded. All these activities must be closely and uniformly supervised between the Ministry of Health and the concerned ministries and branches."Vietnam needs a strategy to recognize vaccine passports with countries in the form of a bilateral or a region. Immediately pilot the application of passports with a few countries with high vaccination rates, with vaccines reaching high immunological efficiency, approved by a reputable medical organization ", Mr. Phu stated. At the meeting on April 9, the National Steering Committee for Covid-19 Prevention agreed that three groups of immigrants are expected to apply for vaccine passports, including Vietnamese trapped abroad, who have been vaccinated with Covid-19.; Foreigners entering Vietnam for investment and business purposes; international tourists. It is expected that Vietnam will welcome tourists from countries that have well-controlled the disease and deploy vaccination to achieve community immunity; destinations are tourist resorts and resorts with safe access to control; have procedures to control travel and contact in domestic.
Source: https://visaonlinevietnam.com/proposed-a-7day-quarantine-from-people-entering-with-a-vaccine-passport-n1940