The immigration policy of Vietnam does require a Saudi Arabian to have entry permission before entering the country. Thus, Saudi Arabian citizens are required to have a Vietnam visa or a visa approval letter before visiting Vietnam. What are Vietnam visa requirements for Saudi Arabia citizens?
Applying Vietnam visa for Saudi Arabia citizens – طلب تأشيرة فيتنام في المملكة العربية السعودية
Address of Vietnam Embassy in Saudi Arabia – سفارة فيتنام بالمملكة العربية السعودية
Vietnam Visa Requirements for Saudi Arabian citizens
Vietnam Visa requirements for Saudi Arabian citizens are not the same as those applied for citizens of almost other countries: Saudi Arabian citizens need to have a visa agent in Vietnam acting as a sponsor who requests visa on their behalf.
Pioneering in the field since 2009, Evietnamvisa has been the reputed agent for Saudi Arabian citizens and assure that the visa is issued.
Required Documents: Saudi Arabian citizens planning to enter Vietnam should prepare:
Applicants' passport with at least six months valid and have two blank pages upward at for sealing and stamping Vietnam Visa
Two passport-sized photos
Procedure to get Vietnam visa approval letter for Saudi Arabians
Complete Vietnam visa application online
Make payment for Vietnam Visa approval letter fee
Get the visa approval letter delivered to your email.
Applicable Vietnam visa types for Saudi Arabia citizens
Depending on the purpose of entry, Saudi Arabia citizens must choose the according visa type: tourist, business, study, or visit. Aside from that, the proposed length of stay requires you to request a different type of visa as well. Vietnam tourist visa normally allows Saudi Arabian citizens the stay duration of no more than 30 days, while Vietnam business visa types may be requested for Saudi Arabian wishing to have a business purpose in the country. The business type can be more flexible in terms of validity length: 30 days or 90 days. For applicants planning to have a longer stay, please refer to 6 month Vietnam visa.
How long is the process of getting Vietnam visa for Saudi Arabian?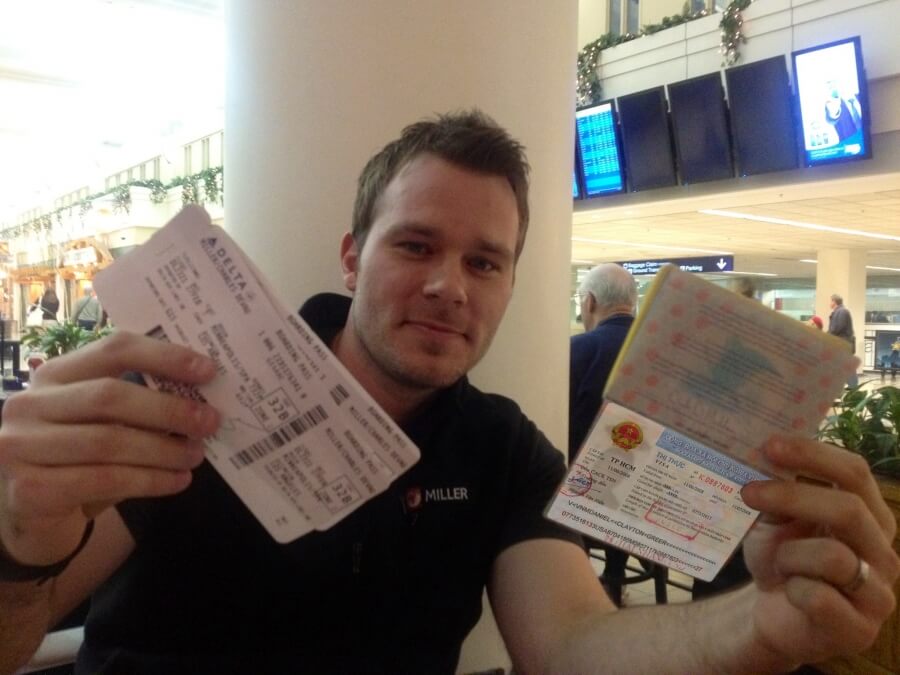 The standard processing time is two business days. However, in urgent cases, you can request express service that charges plus a fee and guarantees delivering the visa within eight business hours. Besides, the super-urgent service is recommended for those who have urgent departure time or wish to get the letter of visa approval issued within one to four business hours.
What are applicable visa types for Saudi Arabia citizens?
There are currently four categories of visa that Saudi Arabia passport holders can apply for one month (single and multiple entries) and three months (single or multiple entries).
Vietnam currently allows Saudi Arabians to enter Vietnam for both tourists and doing business. For tourist visa type, it is currently DL visa, and DN is for business visa type (2015).
How much is the cost for Saudi Arabia citizens?
The longer the validity, the higher is the associated fee for that visa type. Similarly, multiple entries-type costs more than single entry type does.
Vietnam visa requirements for Saudi Arabia citizens – Who are eligible?
All Saudi Arabians with no special immigration record are eligible to request a visa for Vietnam via an agent. The purpose of the entry should be consistent with what you registered while applying for visa (e.g. visit or do business)
Only air travelers are approved to get Vietnam Visa on arrival (visa to be picked up at international airports in Vietnam)
In case Saudi Arabian citizens wish to get Vietnam visa at Embassy of Vietnam (in any country), they can apply for Vietnam visa approval code
When stamping visa, the stamping fee is charged by Vietnam Immigration officer at Vietnam airport.
 Important notices for Saudi Arabia passport holders getting visa for Vietnam
Visa type (Embassy visa or visa on arrival) should be clearly registered right at the time you submit your application.
The stamping fee should be prepared in USD in cash.
In the case of cancellation of your trip after getting visa approval, you can still request another visa approval letter for your changed trip schedule.
For further concerns on the issue and application, visa requirements for Saudi Arabia passport holders, please contact us sales@visaonlinevietnam.com or hotline +84 968 18 77 18.